A Pulse Survey is a short and timely engagement survey sent to employees to help organizations gain information and clarity about the employees' well-being and satisfaction at the workplace. It allows management to recognize the level of employee engagement within the organization. This is helpful for both, employees and managers. Employees can share thoughts about work, provide feedback, and have a better sense of belonging. For Managers, it helps them understand their teams, identify people at risk of burnout, and recognize high performers. (Everything you need to know about Pulse Surveys is available here.) Ultimately, pulse surveys help improve employee happiness, satisfaction, and employee retention. In this article, we will answer:
What is the Purpose of a Pulse Survey?
Why Pulse Surveys should be an important part of your Employee Retention Strategy.
What are the 20 best Pulse Survey Questions for Employee Retention?
How you can start running a Pulse Survey for your team in your organization today.
---
What is the Purpose of a Pulse Survey?
Pulse Surveys can be purposeful to organizations for the following reasons:
1. Pulse Surveys help managers gather timely Feedback from Employees
Pulse Surveys, as opposed to traditional employee engagement surveys, are carried out frequently to encourage regular communication. Feedback is the ultimate measure of effective communication, psychological safety, and engagement. Companies with strong feedback culture are reported to have 15% less turnover. Furthermore, a Happily study shows that top performers are up to 20 times more likely to share regular and meaningful feedback with their peers. This indicates that feedback is key to fostering a high-performing company culture —and Pulse Surveys enable a consistent and predicable feedback loop.
2. Pulse Surveys help build trust and create alignment between employees and managers
One of the most significant benefits of Pulse Surveys is creating alignment in teams. 91% of managers in the U.S. say a candidate's alignment with the company culture is equal to or more important than their skills and experience. Furthermore, pulse surveys being quick and short also result in higher response rates. Employees have also reported being significantly more honest in surveys, than in one-on-ones with their manager.
Now that we've established the purpose of Pulse Surveys, here's why Pulse Surveys should be a core component in your Employee Retention Strategy.
Why Pulse Surveys should be an important part of your Employee Retention Strategy.
Companies use Employee Retention Strategies to lower unwanted staff turnover, boost retention rates especially among top talent, and promote employee engagement (Read more about best Employee Retention Strategies in 2022 here). Employee retention is a critical and complex challenge for every company; companies work hard to recruit, hire and retain the best employees.
Pulse Surveys play a key role in increasing retention by promoting active, regular engagement from team members. The information gathered from a pulse survey can help managers identify problems and make adjustments that help increase employee satisfaction and retention. Pulse survey data can be used to improve employee retention rates in several ways. Companies can use it to:
Identify areas where employees are unhappy or discontented
Create action plans to address employee concerns
Increase employee engagement
Track the progress of employee retention initiatives
Track Employee Risk rate (Essential for identifying the likelihood of turnover)
Measure employee satisfaction and employees' well-being
Monitor the level of employee happiness
Build Better Work Relationships
Receive and Provide Constructive Feedback to employees
💡
Working with Happily
With WFH enforced, an FMCG using Happily quickly noticed that employees were stressed, overwhelmed, and over-challenged. The leadership team were facing challenges of a disengaged workforce and increasing turnover year on year.

With Happily, they were able to foster a continuous feedback loop between employees and their direct managers, in turn helping build and maintain strong working relationships. Happily's Daily Pulse Surveys also provided managers a way to understand the team's wellbeing and happiness rate, as well as identify people who are struggling in terms of performance.

Result: Company happiness increased by 43% after 12 months. Voluntary turnover was reduced by 4.1%, resulting in cost savings of over 5M THB.
Here are the 20 best Pulse Survey Questions that Improve Employee Retention
Pulse Survey Questions should be designed based on company goals. Keep in mind pulse surveys are meant to be short and simple, usually less than 10 questions. Here are 20 questions you can select from to include in your Pulse Surveys to improve employee retention in your organization:
How satisfied are you with your job?
What motivates you at work?
What are the biggest challenges you're facing at work this week?
Do you feel like your job is fulfilling?
How do you feel about your relationship with your supervisor?
Have you received any recognition from your peers over the past week?
Which new skills are you interested in learning?
How do you feel about the current employee benefits?
Do you get enough feedback at work?
Have you had any meaningful interactions with your manager this week?
Do you know how important your work is to your company's goals or mission?
How likely are you to recommend your organization as a good place to work?
Would you say you receive useful feedback on a regular basis for the work you do?
Do you feel comfortable sharing your opinions and thoughts with your peers?
On a scale of 1-10, how excited are you about your job?
On a scale of 1-10, how would you rate the culture of the company you work for?
On a scale of 1–10, how would you rate your work-life balance?
If you have any personal problems, do you let the leadership team know?
Do you feel that the work you are doing is important?
Do you feel stressed out or overwhelmed by the amount of work you have?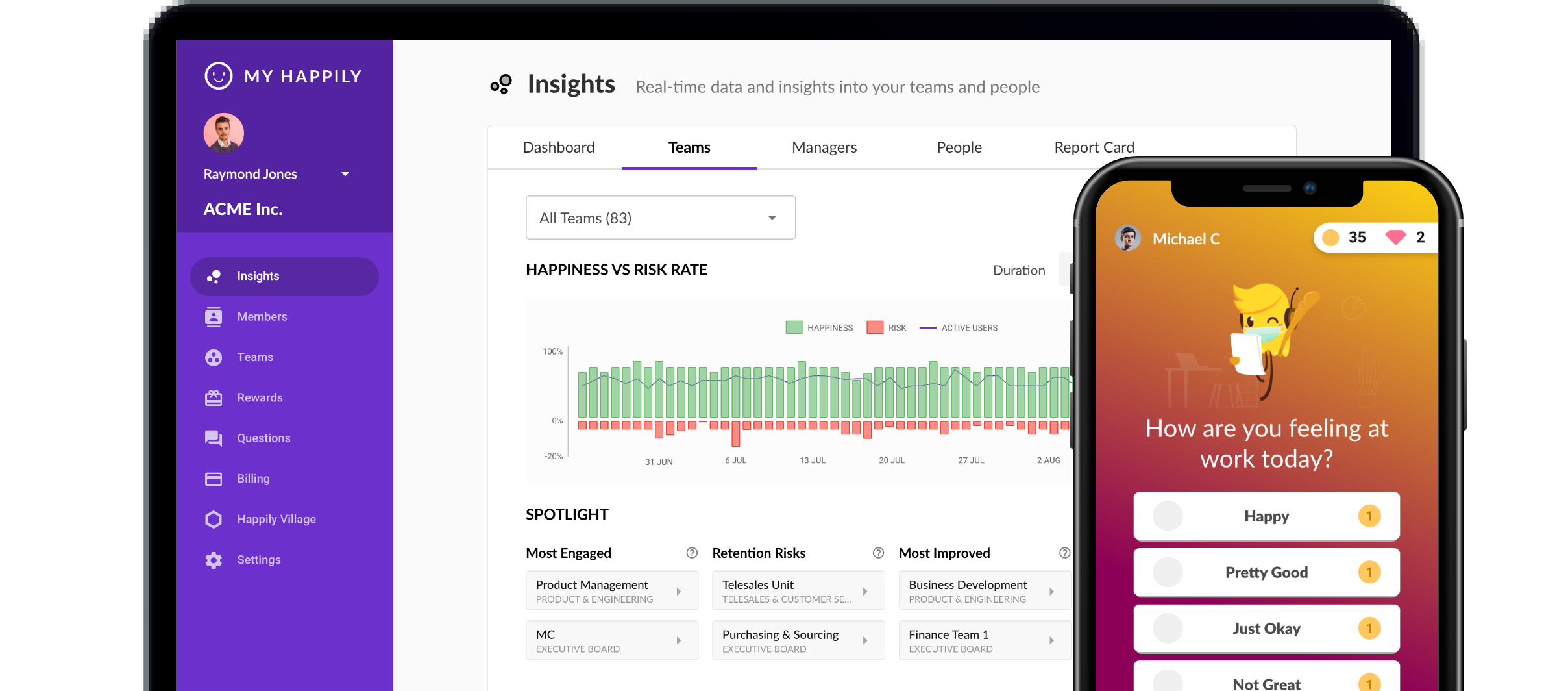 How to launch a Pulse Survey in your organization today
Many organizations invest in an employee experience platform to run their daily pulse surveys. If you want to try, we can help you create an effective pulse survey so that you can get the most reliable results and information about your workplace environment and culture.
However, a nice and easy way to start running a pulse survey would be through Google Forms. Before that, you must:
Decide on the frequency of these questions - are you asking them daily, weekly, or monthly? We recommend monthly pulse surveys if you don't have built-in incentives or automated insights or reporting.
Compile 10-20 best Pulse Survey Questions designed to cover facets of Employee Engagement including feedback, recognition, Happiness, Wellness, Working Relationships, Alignment, and Self-development. We recommend running a survey with 10 questions, 5 regular and 5 in rotation.
Introduce Pulse Surveys to your teams as a way to voice their opinions about company culture and employee well-being. We recommend that company leaders send out surveys and make their intentions to improve the workplace together clear.
Once complete, head over to Google Forms and select a template of your choice (we recommend the "Assessment" Template). Replace the fields with questions of your selection and set it to distribute according to the frequency you've decided. Distribute it to your team members when ready. Keep in mind to actively monitor the responses and provide relevant feedback when necessary. Pulse Surveys allow you to gather employee opinions and data when it matters most —in real-time!
Conclusion
Overall, the importance of pulse surveys as part of an employee retention strategy cannot be understated in today's labor market where one-third of employees leave after about six months. Daily Pulse Surveys can help organizations measure the level of engagement from each employee - which is crucial in determining which employee is at high risk of turnover. Management can use this information to facilitate discussions beforehand and put better retention practices in place in order to mitigate this risk in the future.
---
Happily.ai is an all-in-one employee experience platform that fosters a positive workplace culture. Organizations use Happily to run daily pulse surveys, enable better conversations, provide feedback, receive recognition, develop people managers, and promote better workplace relationships. Real-time well-being and happiness insights are also available to help you better understand your teams and people. Visit us on our website or sign up for a demo to learn more about our features and benefits.