Our studies show that receiving recognition helps employees appreciate the support they receive from others and triggers them to give recognition too.
Building company culture with recognition
Building a great company culture begins with a well-defined set of shared values and is an ongoing process of reinforcing behaviors. Leaders are accountable for being role models, setting correct examples of how people should act and react. As teams grow and our workplaces are distributed, it is unreasonable to rely on the select few at the top. A collective effort is needed. Enter peer recognition.
In a previous study, we showcased a strong relationship between recognition and employee happiness. Other studies conclude that recognition improves engagement, employee retention, and more. Recognition is a robust, low-cost, high-impact business strategy that builds trust and improves employee well-being. Why then is recognition not practiced often enough?
Recognition is a behavior, a habit, that needs to be learned and practiced. Unlike other habits that provide a sense of progress and achievement over time, recognition is a selfless act. It requires action without a clear return on investment. And so, without constant reminders and reinforcement, recognition can be challenging to embed into the company culture.
What if recognition had a more tangible value? What if recognition givers are provided a sense of achievement? And what if giving recognition was made easy to learn and practice? At Happily.ai, we made this possible, and the results are overwhelmingly positive. More than 80% of employees using Happily regularly (at least once a month) give peer recognition. And what's more, we find that those who receive recognition are triggered to provide recognition to others. It's the gift that keeps on giving.
Study & Results
Our Hypothesis: "Those who receive recognition are more likely to give recognition to others than those who haven't received recognition."
Our Study
We studied recognition behavior in a company of 246 employees to understand better how and when recognition happens. These interactions occur within Happily, an engagement app that employees use to give recognition to their peers. Participants were classified into two groups: participants who received recognition first before giving recognition to someone else and those who did not receive recognition first before giving recognition to others.
The results show in the below table.
Table: Number of participants in each group
We found that 97% of participants who have received recognition went on to give recognition too. Only 82% of participants who had never received recognition would give recognition to others.
Remarkably, 62% of recognition participants gave recognition the same day as they received recognition from others. The act of receiving recognition is likely to trigger the recipient to give recognition.
Having an easy-to-use recognition tool in place allows you to activate this trigger mechanism that provides overwhelming benefits to your organization. And by making recognition activity public for all to see, positive behaviors are reinforced autonomously. Finally, reminders or nudges can be a powerful tool in activating recognition in your workplace.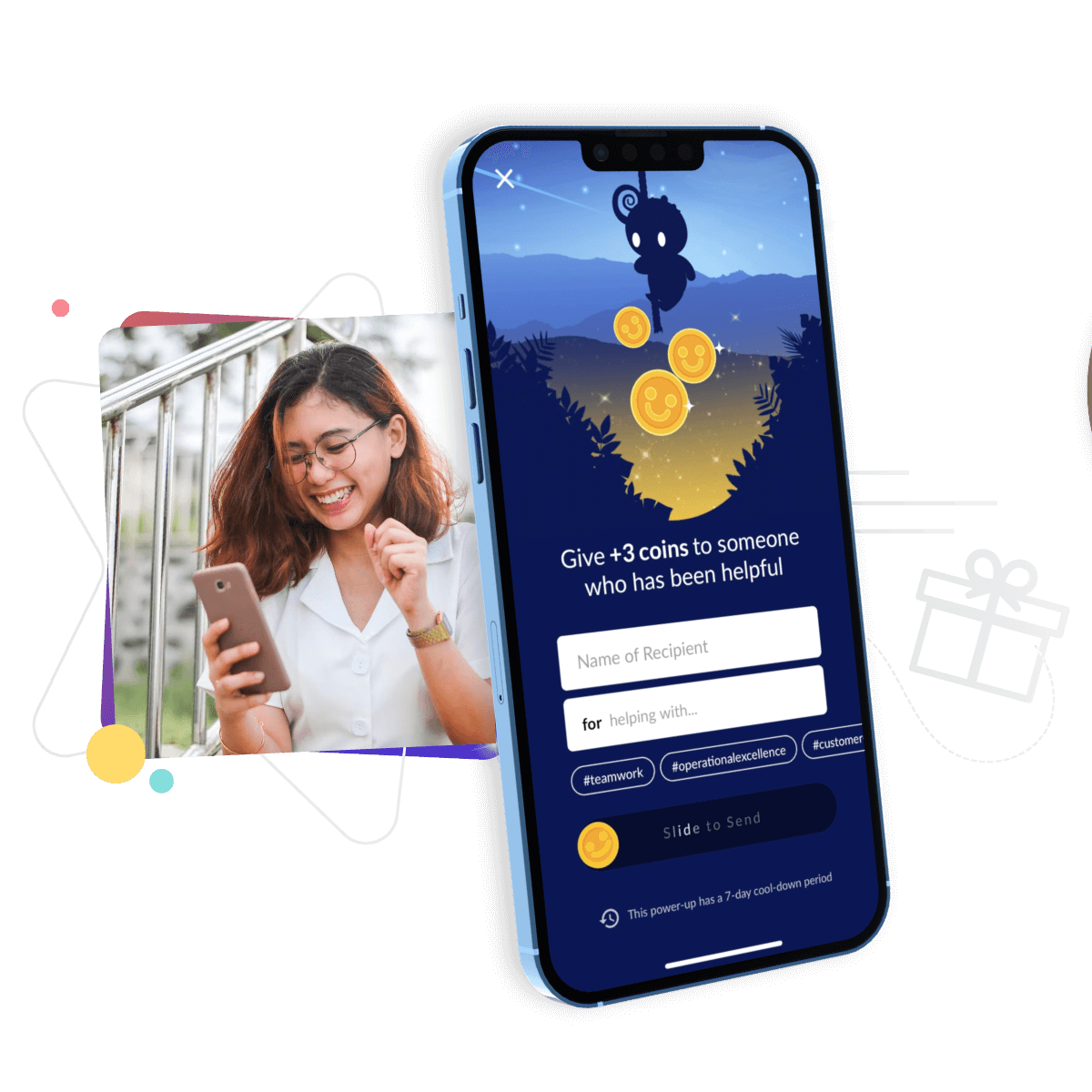 Encourage Positive Behaviors in the Workplace with Happily.ai
See how it works
Best practices for giving and receiving recognition
Recognition can come in different shapes and forms. Good recognition can help build trust. Great recognition can go further to reinforce behaviors, especially those that align with your shared values, to strengthen your company culture.
In an HBR article, Christopher Littlefield mentions that giving and receiving compliments plays a significant part in forming employee relationships in the workplace. Also, guidance on how to accept and give recognition is provided. When accepting recognition, say "thank you" before sharing how you feel. When giving recognition:
1. Be authentic:
Recognition only works if it is sincere and genuine. Don't give recognition because you feel obligated, do it because you want to let someone know the impact they've had on you.
Checklist: Why am I recognizing this person?
2. Be specific:
Like giving feedback, be clear, and provide examples when possible so that there are no doubts about why the recognition is being delivered.
Checklist: What did I experience or observe?
3. Focus on the process, not just the result:
When focusing solely on results, the recipient (and others) are narrowly motivated to produce the same result again. By focusing on the process — the time, sacrifice, effort, creativity, or care that went into their work, you reinforce behaviors that can be applied towards many different results.
Checklist: What did it take for them to do what they did?
4. Share the impact:
To boost your recognition to the next level, articulate the impact they've made on you and others. For example, share how their leadership impacts the team, how their work impacts the company goals, or how their attitude impacts the team morale.
Checklist: How did what they do impact the team or me?
Conclusion
Company culture is a byproduct of shared values and behaviors practiced in the workplace. Recognition is a powerful addition to any workplace. The act of giving and receiving recognition costs next to nothing, but creates immense value in the form of engagement, increased well-being, productivity, and more. And our study shows that those who receive recognition are triggered to give recognition to others. By putting recognition systems in place, enable your workforce to reinforce the right behaviors, motivate top performers, and strengthen your culture.
Happily.ai is a platform that helps companies fortify their culture and drive behavior change. We empower employees with an easy-to-use app to participate in recognition, feedback, self-improvement, and more. To find out more, visit us at www.happily.ai.

References:
[1] https://www.psychologytoday.com/us/blog/cutting-edge-leadership/201401/giving-and-taking-how-get-ahead-work
[2] https://hbr.org/2019/10/how-to-give-and-receive-compliments-at-work?utm_medium=social&utm_campaign=hbr&utm_source=linkedin&tpcc=orgsocial_edit
[3] https://elearningindustry.com/real-behaviour-change-impact-workplace
[4] Christmas photo created by Dragana_Gordic —  www.freepik.com